Santa Monica Animal Shelter
santa monica Animal Shelter
1640 9th Street
santa monica, California 90404
Phone: 310-458-8594
Fax: 310-450-6308
The Santa Monica Animal Control Section provides numerous services to the community, including the investigation of complaints regarding animals and the operation of a full-service animal shelter serving the City of Santa Monica. Both section headquarters and the shelter are located at 1640-9th Street, Santa Monica, CA 90404. To reach the shelter, you'll need to approach driving westbound on Olympic Boulevard. Turn right when you get to 9th Street and we're at the end of a dead-end block. Shelter hours are 8 a.m. to 5 p.m. every day, except Sundays we're open 12 noon to 5 p.m., and Wednesdays, 10 a.m. to 7 p.m.

The shelter houses both stray and owner-surrendered animals, including dogs, cats, rabbits, and an occasional bird or reptile. Strays are held at least five days to give owners time to claim their lost pets. After the hold period is over, adoptable animals are made available to find a good home. If you've lost a pet, or if you're looking to adopt a new one, the city shelter is one of the best places to start your search. If you see an animal on our website that may belong to you, please contact our staff as soon as possible during business hours at (310) 458-8594.
No pets found on this shelter
Directions and map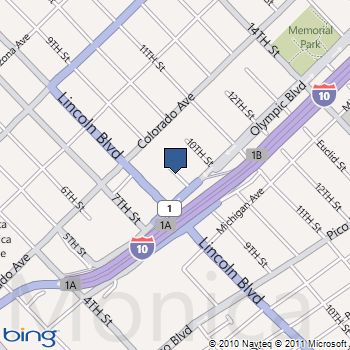 Note: PO Boxes will not show correctly on the map below.