Humane Society of Nelson County
lovingston Animal Shelter
29 Stagebridge Road
lovingston, Virginia 22949
Phone: 804-263-7722
The Almost Home Pet Adoption Center is a no-kill facility owned and operated by the Humane Society/SPCA of Nelson County. It is located at the intersection of Rt. 29 North and Stagebridge Road (Rt. 624) , just two miles north of Lovingston. Presently the facility is open daily from 12 Noon till 4 P.M.

The Adoption Center, which is staffed by volunteers, houses up to 25 dogs and 25 cats. The dogs are contained in individual rooms, one or two to a room, with wall murals painted by area artists and hemi-sync music from a sound system donated by the Monroe Institute. Visitors are encouraged to spend time in the rooms getting acquainted with the dogs and cats prior to adoption. Cats and kittens are housed in colorful cat condos with handcrafted furniture for climbing and perching.

Adoption fees cover the cost of vaccinations, worming, heartworm test or feline leukemia/aids test, spaying/neutering. All adult animals are provided these veterinary services prior to adoption. kittens and puppies are adopted out with neutering certificates covering the cost of these veterinary services at the appropriate age.

Most of the animals at the Adoption Center, which opened on

April 25th, are selected from surrendered and unclaimed aniamals at the Nelson County A nimal Control Facility.

These animals have been judged to be adoptable based on temperament and looks. The Center does accept animals being surrendered by Nelson residents on a space available and adoptability basis.

The Adoption Center receives no state or county funding and depends on the donations and fundraisers to meet its operating expenses.
No pets found on this shelter
Directions and map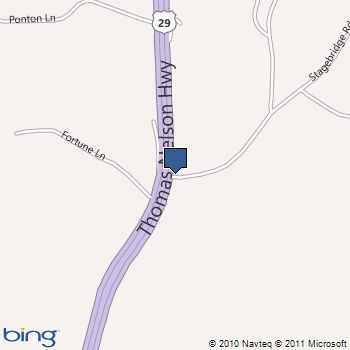 Note: PO Boxes will not show correctly on the map below.