Arizona Humane Society - Sunnyslope Facility
9226 N. 13th Avenue
phoenix, Arizona 85021
Phone: 602-997-7585
Fax: 602-870-1999
The Arizona Humane Society is the state's largest nonprofit animal welfare and protection agency. Annually, our shelter takes in more than 43,000 unwanted, sick, abused and injured animals. A private, nonprofit, 501 (c)(3) organization, we are funded by donations and do not receive any government funding. It is our mission to build healthy relationships between people and animals.

AHS History at a Glance

We were founded in 1957 as a private nonprofit organization by a compassionate group of volunteers who recognized the need to end animal suffering in our community. Our first shelter opened in the Sunnyslope area of north Phoenix with the goal of placing unwanted or abandoned animals in new, loving homes.

We quickly became more than just a place for animal adoptions. Within the first year of opening, for example, the first ambulance began rescuing ill or injured strays, and our own television show, Pets on Parade, began airing, starring adoptable pets from the Shelter. We also added comprehensive humane-education and low-cost spay/neuter services in the community.

We also recognized the need for animals to have a voice among lawmakers, so we began lobbying for new and better laws. Our successful campaigns include outlawing the heinous blood sports of dogfighting and cockfighting; setting standards that make pet-shop owners responsible for the sale of dogs and cats with physical defects and illness; elevating certain cases of animal cruelty from misdemeanor to Class VI felony status; and in 2004, winning approval for Arizona's first "animal friendly" license plate - the proceeds of which pay for spay/neuter services statewide.

Over the years, we have grown rapidly in size and scope. For example, we established our Second Chance Animal Hospital™ in 1996 to treat extremely ill or injured strays, literally giving them a second chance at life. And, our Foster Care Program provides temporary homes for thousands of sick, injured or newborn animals every year as well as family pets affected by domestic violence and those whose owners have been activated by the U.S. military.

Our Mobile Spay/Neuter & Animal Wellness Centers travel throughout the Southwest, caring for dogs and cats who most likely would not otherwise receive medical treatment. And, in an effort to end the problem of pet overpopulation, we provide low-cost spay/neuter services for dogs and cats owned by private citizens at both of our clinics. We continue to fight for laws protecting the rights of animals, and to enhance services to serve companion animals even better.

After providing refuge for tens of thousands of homeless animals annually for more than 40 years, our Sunnyslope Facility needed a facelift … and we need a second shelter location.

In 1998, we launched a capital campaign to renovate the Sunnyslope Facility and to build a new animal shelter that could house even more pets, programs and services. Animal lovers throughout Arizona contributed generously, and the Nina Mason Pulliam Campus for Compassion opened in May 2002. Today, both Shelters work together to achieve our mission of building healthy relationships between people and animals. Since we opened the Campus for Compassion, we have not euthanized a healthy, adoptable dog or cat because of lack of space, and we've enjoyed remarkable growth of our programs and services.
No pets found on this shelter
Directions and map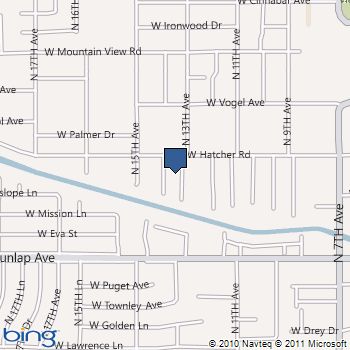 Note: PO Boxes will not show correctly on the map below.