Angels With Paws
2540 Youngfield St.
Lakewood, Colorado 80215-1033
Phone: 303-274-2264
We are a non-profit 501(c)(3) Public Charity, operating a limited intake (only euthanizing when an animal is suffering and there is nothing more we can do) mostly cage-free rescue & shelter. Started in 2003, by a few caring people because there are so many adoptable animals who just need a little extra care or attention being put-down or turned away by other shelters. Since then we've been able to save, provide shelter, veterinary and other care and find homes for nearly 7,000 animals (mostly cats & kittens through the shelter & even a few dogs through our foster system). This number is amazing considering we have extremely limited resources and are not able to do much marketing or promotion (most folks have never even heard of us), our shelter is very small (a converted fast food restaurant in constant need of repair) and we have few committed volunteers. The bulk of our funding comes from donations and adoption fees as we do not receive any government money and are not funded or sponsored by any agency, corporation or group. Serving the Greater Metro area and through fosters Ft. Collins, Longmont & Loveland, Angels with Paws takes in unwanted and homeless animals, many of which have injuries, illness, disabilities, special needs and other conditions (most caused by neglect, abandonment, abuse & worse), older adults (over the age of 6), and those who just need some patience and compassion (most of which would have been put-down by or turned away from other shelters). We provide veterinary and other care, food, litter, etc. and a place for them to live until they are adopted. We also promote and educate the public on responsible pet ownership, the need to spay/neuter and the cruelty of declawing.
Directions and map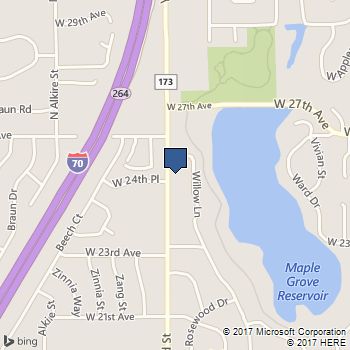 Note: PO Boxes will not show correctly on the map below.