Uroeze Pet Medication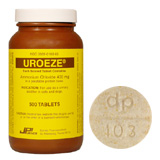 Dog or Cat
Availability: Prescription
Active Ingredient(s):

What is Uroeze used for?
Uroeze is FDA approved for use in dogs and cats as a urinary acidifier.
How Uroeze should be used?
The suggested dose of Uroeze in adult cats and dogs is 200mg-400mg per 10 pounds of body weight twice a day with food. The daily dose may vary with different diets depending on the alkalinity of the diet. The dosage should be adjusted to maintain the urine pH below 6.6.
What are the side effects?
Side effects of Uroeze may include irritation of the lining of the stomach.
What special precautions are there?
Uroeze should not be used in kittens. It should not be administered to animals with severe liver or kidney damage or to animals exhibiting acidosis.
In the event of overdose?
Contact your veterinarian or veterinary emergency room. Symptoms of overdose may include vomiting, excessive thirst, slow heart rate or other arrhythmias.
How should I store Uroeze?
Keep this medication in the container it came in, tightly closed. Store at controlled room temperature, away from excess heat, light and moisture. Do not store in the bathroom. Throw away any medication that is outdated or no longer needed. Keep this medication out of the reach of children and pets.
Disclaimer: The information on this site is for educational purposes only and should NOT be considered veterinary advice. Any veterinary questions should be referred to your veterinarian. This information is NOT to be used for diagnosis or treatment of your pet. Please make your own inquiries with your veterinarian for the suitability of a product for your pet.