Strongid C 2X Pet Medication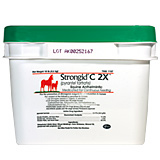 Farm Animal
Availability: OTC
Active Ingredient(s):
Pyrantel tartrate
What is Strongid C 2X used for?
Strongid C 2X is an equine wormer indicated for the prevention or control of Large Strongyles, Small Strongyles, Pinworms and Roundworms.
How Strongid C 2X should be used?
This product is to be administered on a continuous basis either as a top-dress or mixed in the horse's daily grain ration. To achieve the correct dose, administer 0.5 oz of Strongid C 2X per 250 lb of body weight using the enclosed measuring cup only. Strongid C 2X should be administered for the entire period the animal is at risk to internal parasites. Foals may be given Strongid C 2X as soon as consistent intake of grain mix is occurring, generally between 2 and 3 months of age. This product may be used in mares at any stage of pregnancy or lactation. Stallion fertility is not affected by the use of this product.
What are the side effects?
There are no reported side effects.
What special precautions are there?
Unprotected animals that have grazed may already have an established S. vulgaris larval infestation. These animals should be treated with a therapeutic dose of a larvicidal product. This product is not for use in horses intended for food. Use with caution in severely debilitated animals. Do not mix in feeds containing bentonite.
In the event of overdose?
Contact your veterinarian or veterinary emergency room.
How should I store Strongid C 2X?
Store this product in the container it comes in. Keep out of the reach of children and pets.
Disclaimer: The information on this site is for educational purposes only and should NOT be considered veterinary advice. Any veterinary questions should be referred to your veterinarian. This information is NOT to be used for diagnosis or treatment of your pet. Please make your own inquiries with your veterinarian for the suitability of a product for your pet.