Dog Park details for Red Bud Isle
Red Bud Isle
3401 Redbud Trail
Austin, TX 78703
An off lead dog park on a peninsula into Town Lake. There is a people trail that is approximately 1/2 mile long with multiple safe places for dogs to swim or retrieve. There are often folks fishing or launching kayaks here also and the dog people and the sports people try to be considerate of each other's varied uses of the park. Really a beautiful place. Wooded peninsula with lake on 3 sides; bags. Location: 3401 Red Bud Trail Unit Cr. Directions: Take the Lake Austin Blvd exit off of Mopac and turn West. Follow to second traffic light which is Red Bud. There is a golf course on the right as a landmark. Turn Left onto Red Bud and watch for entrance on left to park just after bridge.
Red Bud Isle directions and map
Below is a map for Red Bud Isle, please call for specific directions.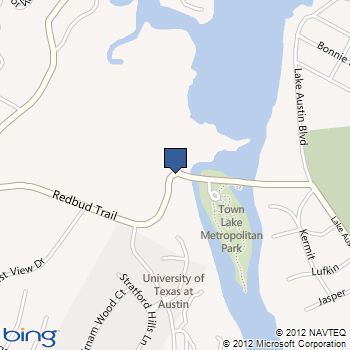 If you would like to add custom text or update the information provided about Red Bud Isle please email us at info@animalshelter.org
Note: PO Boxes will not show correctly on the map below.