Dog Park details for Lynn Woods Reservation
Lynn Woods Reservation
106 Pennybrook Road
Lynn, MA 01905
Any dog not under effective voice command (dog must respond to the command immediately without having to be commanded a second time) must be on a leash. I suggest to anyone going to Willard's Woods bring a leash with them when they walk. Lynn Woods Reservation, a 2,200-acre municipal forest park located in Lynn, Massachusetts, is the second largest municipal park in the United States. 2,200 acres in Lynn, Lynnfield and Saugus - 2nd largest municipal park in the country Walden Pond=240 acres; Breed's Pond=208 acres; Birch Pond=82 acres Gannon Golf Course (18 hole)=180 acres; Gravel Fire Roads=10 miles; Official Trails=30 miles; Highest Elevation (Burril Hill/Stone Tower)=285 ft.; Longitude West 70 degrees-55'-30" to 71 degrees-00'-00"; Latitude North 42 degrees-27'-00" to 42 degrees-31'-00"; Directions: From Route 128 North or South: Take Exit 43 in Lynnfield. (From this point, it is 4.0 miles to Lynn Woods.) At the bottom of the ramp, head east, following signs to Walnut Street, Saugus/Lynn. At 1.5 miles, bear left at the fork. You will cross over Route One and continue into Lynn (the boundary is unmarked) on Walnut Street. At a blinking light, turn left onto Pennybrook Road (opposite O'Callaghan Way). Go to the end of Pennybrook Road and between two stone pillars into the reservation. From Route 1 North or South: Take the Walnut Street exit in Saugus and head east on Walnut Street into Lynn. At 2.0 miles, turn left at a blinking light onto Pennybrook Road.
Lynn Woods Reservation directions and map
Below is a map for Lynn Woods Reservation, please call for specific directions.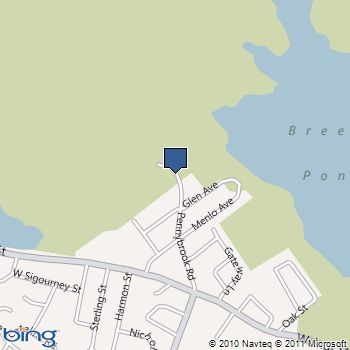 If you would like to add custom text or update the information provided about Lynn Woods Reservation please email us at info@animalshelter.org
Note: PO Boxes will not show correctly on the map below.