Dog Park details for Jack Carter Park
Jack Carter Park
6500 Roundrock Trail
Plano, TX 75023
Phone: 972-941-7250
Location: 6500 Roundrock Trail, Plano TX, 75023. Directions: The dog park is a double-gated, fenced, 2-acre area along Bluebonnet Trail near its intersection with the Chisholm Trail in central Plano. The area has benches, picnic tables, water stations for humans and animals, and waste pickup/disposal stations. Please access the park from the parking lot directly west of the area. You will find the parking lot by traveling one half-block north on Pleasant Valley Drive from its intersection with Spring Creek Parkway, west of Custer Road. The address is 6199 Pleasant Valley Dr. For more Dog Park Information, See Our Dog Park Web Page. For recorded information, including weather closings and regular maintenance, you may call our information line, 972-941-BARK. The dog park is closed the first and third Tuesdays of each month for maintenance. The dog park will also be closed during inclement weather to protect the turf. Animals must wear current registration and rabies vaccination tags at all times. The City of Plano Animal Services Department will be monitoring the park for proper registration and vaccinations. For information on City of Plano licensing procedures and regulations, please contact the Animal Services Department at 972-769-4360. Google® Map to Jack Carter Park PDF Map of Bluebonnet, Chisholm, Preston Ridge, and Legacy Hike and Bike Trails.
Jack Carter Park directions and map
Below is a map for Jack Carter Park, please call for specific directions.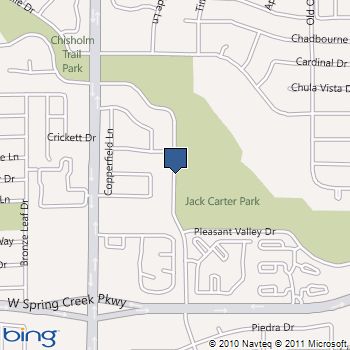 If you would like to add custom text or update the information provided about Jack Carter Park please email us at info@animalshelter.org
Note: PO Boxes will not show correctly on the map below.