The Animal Shelter web site was created in an effort to place homeless animals throughout the United States. These animals are often located in one of thousands of animal shelters and rescue's throughout the Country which offer a temporary placement while a loving family is found. At the Animal Shelter we provide a database of animals which will allow you to search for your next pet based on animal type, breed, size, gender and location. You can also search through our growing directory which now includes, animal shelters, lost, found or adoptable pets, pet meds, dog parks, and hundreds of frequently asked questions. If you would like to make a gift or support our cause please purchase a ribbon from our animal shelter support page. Remember adopting a pet is saving a life.
Animal Shelters Daily Pet Tips & Info...
Shetland Sheepdog
Wonderful Companion Always By Your Side - The Shetland Sheepdog (Sheltie)
At a first glance, the Shetland Sheepdog (Sheltie) looks like a smaller copy of a rough-coated Collie. Although the two breeds are related, the Sheltie wasn't born from the desire to have a smaller Collie. The original breed was a Spitz type dog, which was crossed with different local breeds from Scotland and, later, with the Rough Collie. The breed was finally recognized officially in the first decade of the 1900s.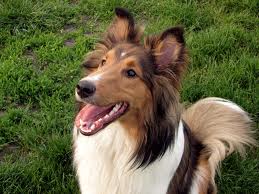 This small to medium sized dog has a head resembling a blunt wedge when looking at it from the side, with a muzzle slightly tapered from the ears to the nose. The teeth meet in a traditional scissors bite or, sometimes, in a leveled bite. The dogs have a black nose and small, dark, almond shaped eyes. The small ears are three quarters erect, with the tips slightly folding forward.
The Shetland Sheepdog (Sheltie) has an abundant, double coat, shorter on the legs and the head. Around the neck and the chest, the coat forms a mane. The outer layer is harsh to the touch and straight, while the second layer, the undercoat is shorter and soft to the touch. The coat coloration varies from blue merle, black and sable, with some amounts of tan or sable.
Contrary of what you may expect, the coat is really easy to care for. Regular brushing is important for keeping the dog's coat looking its best. You can slightly mist the coat with water before grooming, and gently take out the mats, if they appear. The dog should be bathed only when it is absolutely necessary.
The Sheltie is an intelligent and loyal dog and always eager to please its owner. It is always alert and docile. They make great guard dogs or watch dogs, becoming very attached to their family and property. With the great intelligence that these dogs show comes greater responsibility to keep that mind busy. They need a lot of attention and are always eager to learn new tricks and play games.
Shelties need an owner who is firm but gentle, as the dog needs to understand that the owner is the pack leader. If the owner fails to become the dog's pack leader, behavioral problems are bound to appear. The dog may become suspicious towards unknown people, especially with children. Shelties will become more aggressive towards strangers, even leading to biting. In this case, the only one to blame is the owner, as all of these problems can easily be avoided if the dog receives all the attention and exercise it needs.
The breed needs a lot of exercise, to satisfy that energetic temperament, including a daily walk or jog. They can adapt to living in an apartment, as they are rather inactive indoors, but be sure you provide the needed amount of exercise.
The Shetland Sheepdog (Sheltie) will quickly become your best friend, as long as you give it just the simple things it needs: love and daily exercise.

Check out our new Google Toolbar Buttons
recieve alerts on adoptable pets, and lost pets.
.

The Animal Shelter now has a new Twitter account, please setup a Twitter account and follow us for up to date pet tips and information Our goal is to have 20,000 people following us by the end of the year, please help us out, its free and will only take about 3-5 minutes of your time.
www.twitter.com/animalshelter
.

Find a
Veterinary
here. Make sure your pet gets the medical care he or she needs.

In Memory Of.
After many requests we have added an In Memory Of page to our site.
A gift can be given here
and we will add your name, the amount, and any message you would like to our page of memories. Click
In Memory Of
to see what memories and stories have been added.

Search for local dog parks.
Our dog park directory is new and growing, Dog parks are an excellent place to take your dog for exercise or fun.

You can now lookup some of the most common
pet meds
, how they should be used, stored, and potential side effects. Click now to get a list of common medical conditions, and treatments.

You can now add your shelter or rescue organization
If your shelter or rescue is not listed you can now add it to our directory of nearly 6000 organizations .

State based search for animal shelters and rescues is now available
You can now click on your state and view all shelters and rescues.

Zip Code search for Pets is now available
You can now enter your zip code and a range in miles to determine which pets are in your area.

Zip Code search for Animal Shelters is now available
You can now enter your zip code and a range in miles to determine which organizations are in your area.
You can now place a quick search link to our site using the code available on this link.
Not sure where to start in your search for a pet? Click below for details.


Dogs: Get advice


Cats: Get advice


We enjoy reading about your experience and sharing your thoughts with our visitors.


Send us your adoption story!