The Animal Shelter web site was created in an effort to place homeless animals throughout the United States. These animals are often located in one of thousands of animal shelters and rescue's throughout the Country which offer a temporary placement while a loving family is found. At the Animal Shelter we provide a database of animals which will allow you to search for your next pet based on animal type, breed, size, gender and location. You can also search through our growing directory which now includes, animal shelters, lost, found or adoptable pets, pet meds, dog parks, and hundreds of frequently asked questions. If you would like to make a gift or support our cause please purchase a ribbon from our animal shelter support page. Remember adopting a pet is saving a life.
Animal Shelters Daily Pet Tips & Info...
The Estonian Hound
The Estonian Hound – An Agile and Affectionate Furry Friend Suitable for All Families
The Estonian Hound is a scent hound dog breed originating from Estonia, and, although it was meant to be a working breed, its popularity as a companionship dog continues to increase. Its medium size makes it very suitable to be kept indoors, for instance in apartments, as long as its need for daily exercise is properly respected. Long walks are the perfect outlet for all that energy it has in store. After all, it "ain't nothin' but a hound dog". However, it will not cry all the time, provided that you acknowledge its lovable presence, and it will be a friend of yours for life. Its general appearance bears a resemblance to the Beagle, another famous hunting dog breed, especially in terms of colors and floppy ears. It has a strong bone structure and well-developed muscular mass.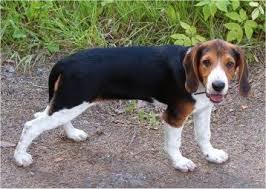 The most striking physical traits of the Estonian Hound are its warm brown eyes, keen scent and white-tipped tail. One simply cannot resist those soulful big eyes. The shiny coat is a blend of blackish brown and saddle-like red or yellow patches on the back, with white belly and tip of the tail.
It has a cheerful and energetic temperament and it gets attached equally to all members of the family, including small children, because it loves the human presence and it always seeks attention. It is well-behaved and quiet indoors if you walk it regularly, at least one hour a day. It is best to be walked on a leash, to prevent accidents, as they can pick up a scent and follow it wherever it may lead them to. If you are hardly home or not willing to share some of your time with it, keep in mind that it can suffer from separation anxiety if left alone for too long. Another remarkable breed trait is the pleasant hunting voice, not harsh on the human ear, unlike other hound breeds. It adapts very well to all kinds of environments and weather conditions.
This breed is the only one native to Estonia and, due to its high intelligence, it can be easily trained. In addition, it responds very quickly to obedience training, mostly advised due to the fact that this breed tends sometimes to be shy. Moreover, due to its short coat, grooming this pet does not take much of your time, unlike long-haired breeds, which are high maintenance. It sheds on an average level and it requires only occasional bathing and no professional grooming. In terms of health, it does not require many trips to the vet, because this breed is predisposed only to minor allergies and sinus infections.
The standard weight of this breed is between 33 and 44 pounds and the standard height is 17 to 21 inches. A relatively new breed, this hound is very friendly and never aggressive, making it an excellent playmate even for small children. Also, it gets along with other dogs, as well as with cats, if exposed to them from an early age. It loves the stability of a family and a home and being a very affectionate breed, it also likes to socialize, while being protective of its family members. Its stable and loving temperament makes it very safe to keep around children - to whom it can be a really true friend.
This good-natured breed is an excellent family companion. Adopting an Estonian Hound is indeed most rewarding – you just have to see for yourself.

Check out our new Google Toolbar Buttons
recieve alerts on adoptable pets, and lost pets.
.

The Animal Shelter now has a new Twitter account, please setup a Twitter account and follow us for up to date pet tips and information Our goal is to have 20,000 people following us by the end of the year, please help us out, its free and will only take about 3-5 minutes of your time.
www.twitter.com/animalshelter
.

Find a
Veterinary
here. Make sure your pet gets the medical care he or she needs.

In Memory Of.
After many requests we have added an In Memory Of page to our site.
A gift can be given here
and we will add your name, the amount, and any message you would like to our page of memories. Click
In Memory Of
to see what memories and stories have been added.

Search for local dog parks.
Our dog park directory is new and growing, Dog parks are an excellent place to take your dog for exercise or fun.

You can now lookup some of the most common
pet meds
, how they should be used, stored, and potential side effects. Click now to get a list of common medical conditions, and treatments.

You can now add your shelter or rescue organization
If your shelter or rescue is not listed you can now add it to our directory of nearly 6000 organizations .

State based search for animal shelters and rescues is now available
You can now click on your state and view all shelters and rescues.

Zip Code search for Pets is now available
You can now enter your zip code and a range in miles to determine which pets are in your area.

Zip Code search for Animal Shelters is now available
You can now enter your zip code and a range in miles to determine which organizations are in your area.
You can now place a quick search link to our site using the code available on this link.
Not sure where to start in your search for a pet? Click below for details.


Dogs: Get advice


Cats: Get advice


We enjoy reading about your experience and sharing your thoughts with our visitors.


Send us your adoption story!