The Animal Shelter web site was created in an effort to place homeless animals throughout the United States. These animals are often located in one of thousands of animal shelters and rescue's throughout the Country which offer a temporary placement while a loving family is found. At the Animal Shelter we provide a database of animals which will allow you to search for your next pet based on animal type, breed, size, gender and location. You can also search through our growing directory which now includes, animal shelters, lost, found or adoptable pets, pet meds, dog parks, and hundreds of frequently asked questions. If you would like to make a gift or support our cause please purchase a ribbon from our animal shelter support page. Remember adopting a pet is saving a life.
Animal Shelters Daily Pet Tips & Info...
The King Shepherd
The King Shepherd – A Grand Dog and a Brave Protector
The King Shepherd is a dog breed that was developed in the '90s. The breed was created to fulfill the wishes of those who wanted the appearance of a German Shepherd, but on a larger scale. This breed is a combination of German Shepherd, Alaskan Malamute and Great Pyrenees.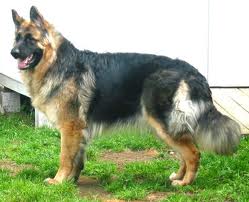 The King Shepherd has a grand posture and dominant appearance. It body is robust and well-proportioned. It is larger and furrier than the German Shepherd. This dog expresses power and stability. The body is longer than tall, but it remains compact. Its head is massive with a round skull. The forehead is moderately wide and high. There are no wrinkles on the forehead. The almond-shaped eyes are normal in size with a serious look. The stop is deep and the muzzle is somewhat shorter than the German Shepherd's. The nose and the lips are black. The ears are set up on the head. They are medium-sized and a V-shape. The neck is thick and strong and the back is long and straight. The chest is moderately wide, but powerful. The legs are not long, but stable and muscular. The tail is long and carried low. The coat is long, straight and dense and it is longer around the neck, chest and hind legs. It has feathering on the ears and tail.
There are some differences between the genders. The females look more supple and small than the males. The females are 25 to 29 inches tall whereas the males are about 29 to 32 inches tall. They weigh 75 to 110 pounds.
This imposing dog is very bright and easy to train. It is also self-confident and well-balanced as a personality. It is a working dog that can manage to herd the sheep. However, it excels at being very attentive and protective towards its master. It is pretty friendly towards strangers, but it remains distant and careful. It does best as a pet, because it loves human companionship and it is eager to satisfy its master. It offers the best protection and it can make you feel safe anywhere you are. It must be trained from an early stage, but this would not be a challenge at all, because of its intelligence. Also, it must be socialized as a pup so it can learn to accept other pets or animals.
It can do well in an apartment, but you must exercise it properly. It prefers large spaces so it can freely move, but it can also manage with smaller places. It is moderately active indoors. It is perfect for children and active persons. It requires long, daily walks and rigorous exercises. Keep in mind that this dog craves for challenges, so you need to offer it various activities and trainings.
Grooming is quite easy, they only need to be brushed regularly – once per week – and washed occasionally. They can live up to 12 years. The King Shepherd is a stunning dog that is eager to find somebody who can offer it shelter.

Check out our new Google Toolbar Buttons
recieve alerts on adoptable pets, and lost pets.
.

The Animal Shelter now has a new Twitter account, please setup a Twitter account and follow us for up to date pet tips and information Our goal is to have 20,000 people following us by the end of the year, please help us out, its free and will only take about 3-5 minutes of your time.
www.twitter.com/animalshelter
.

Find a
Veterinary
here. Make sure your pet gets the medical care he or she needs.

In Memory Of.
After many requests we have added an In Memory Of page to our site.
A gift can be given here
and we will add your name, the amount, and any message you would like to our page of memories. Click
In Memory Of
to see what memories and stories have been added.

Search for local dog parks.
Our dog park directory is new and growing, Dog parks are an excellent place to take your dog for exercise or fun.

You can now lookup some of the most common
pet meds
, how they should be used, stored, and potential side effects. Click now to get a list of common medical conditions, and treatments.

You can now add your shelter or rescue organization
If your shelter or rescue is not listed you can now add it to our directory of nearly 6000 organizations .

State based search for animal shelters and rescues is now available
You can now click on your state and view all shelters and rescues.

Zip Code search for Pets is now available
You can now enter your zip code and a range in miles to determine which pets are in your area.

Zip Code search for Animal Shelters is now available
You can now enter your zip code and a range in miles to determine which organizations are in your area.
You can now place a quick search link to our site using the code available on this link.
Not sure where to start in your search for a pet? Click below for details.


Dogs: Get advice


Cats: Get advice


We enjoy reading about your experience and sharing your thoughts with our visitors.


Send us your adoption story!