The Animal Shelter web site was created in an effort to place homeless animals throughout the United States. These animals are often located in one of thousands of animal shelters and rescue's throughout the Country which offer a temporary placement while a loving family is found. At the Animal Shelter we provide a database of animals which will allow you to search for your next pet based on animal type, breed, size, gender and location. You can also search through our growing directory which now includes, animal shelters, lost, found or adoptable pets, pet meds, dog parks, and hundreds of frequently asked questions. If you would like to make a gift or support our cause please purchase a ribbon from our animal shelter support page. Remember adopting a pet is saving a life.
Animal Shelters Daily Pet Tips & Info...
The Russian Bear Schnauzer
The Russian Bear Schnauzer – Cold With Strangers, Warm With Family
The Black Russian Terrier, also known as the Russian Bear Schnauzer, is a breed created in the former Soviet Union using over 20 other breeds, mostly imported from Germany. This breed was made initially for the military and is designed as a working dogs. In later years, more care has been given to the appearance of the dog as well, making it look as it does today.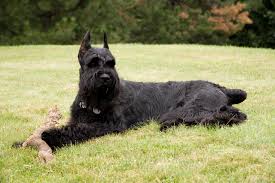 The head expresses power and strength, balanced from the side and blocky, almost brick-like from the front. The medium-sized dark eyes are almond-shaped, with black rims. Its jaws are powerful and wide and are surrounded by full, meaty lips.
The body, weighing an average of 50-60 kg in males and 45-50 kg in females, is strong and muscular, with an oval shape and with a wide neck to support it. The topline is level and straight, the abdomen firm. The wide, muscular, croup descends lightly to high set, thick, cropped tail. The legs should be parallel, with round feet. The shoulder-height is 66-72 cm for males and 64-70 cm for females.
The Russian Bear Schnauzer is covered with a tousled, double coat, usually black, and there's the possibility of some gray mixed into it. The under-layer is thick and the upper coat is rough, making it very resistant to cold weather. The standard cut for this breed is to trim the entire body but leave the moustache and beard alone. Also, the dog should be groomed at least once per week in order to avoid excessive shedding; taking care to also remove hairs from ear ducts and cut the hairs under the paws.
Overall this breed is a generally healthy dog, living up to 10-14 years, with few health problems, amongst which are hip and elbow dysplasia.
Because it is a dog bred especially for working, it has a very strong "work ethic" and needs to do a job in order to be happy. Early training is important, but these dogs are very responsive as they are a very intelligent breed. Their overall behavior is balanced, determined and fearless.
The Russian Schnauzer is weary with strangers until its owner says otherwise and deeply loyal to family. It makes an excellent guard dog because of its protective instincts. Because of its calm and nurturing nature and its love for playing, it gets along very well with children or other pets. These dogs love to exercise and also love water and snow, but they will not usually react in a negative manner if they aren't taken out for their daily stroll. Owners must be weary though that if they do not get enough exercise and attention for longer periods they can become, as most dogs, destructive and hyperactive.
The Russian Bear Schnauzer is an ideal family pet but is not a dog for beginners because it does need a fair amount of training, attention and exercise; if you think you are up for the task, it will make an ideal companion for you and your family.

Check out our new Google Toolbar Buttons
recieve alerts on adoptable pets, and lost pets.
.

The Animal Shelter now has a new Twitter account, please setup a Twitter account and follow us for up to date pet tips and information Our goal is to have 20,000 people following us by the end of the year, please help us out, its free and will only take about 3-5 minutes of your time.
www.twitter.com/animalshelter
.

Find a
Veterinary
here. Make sure your pet gets the medical care he or she needs.

In Memory Of.
After many requests we have added an In Memory Of page to our site.
A gift can be given here
and we will add your name, the amount, and any message you would like to our page of memories. Click
In Memory Of
to see what memories and stories have been added.

Search for local dog parks.
Our dog park directory is new and growing, Dog parks are an excellent place to take your dog for exercise or fun.

You can now lookup some of the most common
pet meds
, how they should be used, stored, and potential side effects. Click now to get a list of common medical conditions, and treatments.

You can now add your shelter or rescue organization
If your shelter or rescue is not listed you can now add it to our directory of nearly 6000 organizations .

State based search for animal shelters and rescues is now available
You can now click on your state and view all shelters and rescues.

Zip Code search for Pets is now available
You can now enter your zip code and a range in miles to determine which pets are in your area.

Zip Code search for Animal Shelters is now available
You can now enter your zip code and a range in miles to determine which organizations are in your area.
You can now place a quick search link to our site using the code available on this link.
Not sure where to start in your search for a pet? Click below for details.


Dogs: Get advice


Cats: Get advice


We enjoy reading about your experience and sharing your thoughts with our visitors.


Send us your adoption story!